Root-Cause Analysis of Quincy Station Pre-Cast Structure
Root-Cause Analysis of Quincy Station Pre-Cast Structure
KEY INFORMATION: 
Project name: Root-Cause Analysis of Quincy Station Pre-Cast Structure Collapse
Client: GC, concrete subcontractor, and shoring subcontractor
Location: Westmont, Illinois
Services Provided: Root-Cause Analysis
Root-Cause Analysis by SOCOTEC Helps Resolve Building Collapse
SOCOTEC's Chicago office applied forensic analysis in investigating the 2-story collapse of a precast concrete structure being built in Illinois. The failure spanned three bays of a precast structure. In addition to determining the root cause and origin of the collapse, Bill Bast and his team worked with the shoring contractor to shore the surrounding structure and jack undamaged members back into place. The failure occurred due to a lack of shoring, specifically for the inverted T-beams subject to rotational loads induced by the planks during erection.
Root cause analysis such as this is one of the many services of SOCOTEC's Specialty Engineering team. This team also supports subcontractors during the pre-construction and planning phases. An experienced third party can help prevent construction failures, saving everyone a lot of anxiety, time, and money. The Quincy Station structure had more than a few construction errors that the right expertise could have prevented.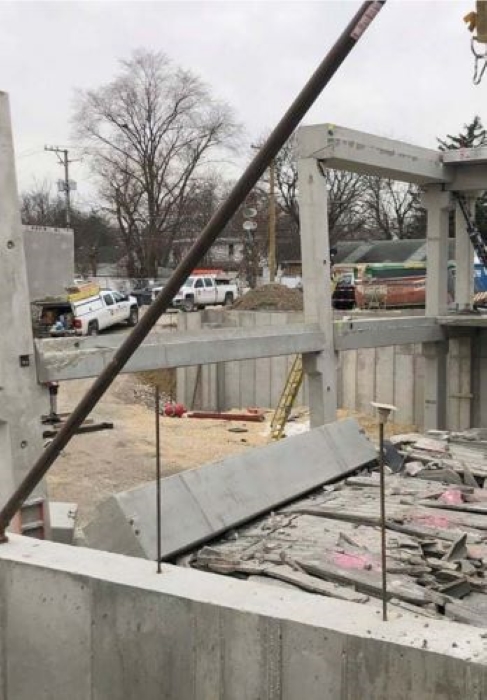 Beyond Root-Cause Analysis
Root cause analysis is a process of determining the cause of a failure, be it the structural components, design, or operations. Construction is all about following processes, but what if the standards haven't been set? Low-height structures do not have standard erection sequence protocols and so leave room for errors in column and beam placements. If an advisory firm has the proper experience, it could help establish these protocols. Prevent disaster and assist the industry in developing standards and protocols; why not?
SOCOTEC's Specialty Engineering team has nearly 150 years of expertise in determining the many factors that caused a building failure. However, clients can gain the most advantage by utilizing their services at the onset of a project. In the case of the Quincy Station collapse, the subcontractor's engineers could have employed them for engineering design consulting. A solid risk evaluation and simulation could have uncovered the 2-3 inches that the Line 10 columns were out-of-plumb. While no one was hurt in this collapse, safety should always be paramount in any project considerations and a few inches can have a big impact.
Before root-cause analysis, the Specialty Engineering team could have assisted further using materials testing and analysis, whether in the field or at the Brooklyn facility. A review of the collapse site uncovered that a number of the precast items had sustained damage and needed repair. Using the proper materials in your structure, with the right design plan, makes all the difference for lasting integrity and safety. Documentation of such material analyses also helps set those industry standards and establish training to benefit other engineers.
Expertise Leads the Way to Resolution
In the event of a construction failure, the right set of skills can not only uncover the cause of a collapse but help prevent future recurrences. In the case of root-cause analysis, it's critical to have a breadth of experience to consider all the possibilities. SOCOTEC's Chicago office provided such a team leader in Bill Bast, Principal, Regional Director of the Midwest. With over 40 years of structural engineering experience, Bill has seen a lot and can bring that experience and expertise to your project. Pertinent to the Quincy Station collapse, Bill previously provided failure analysis for a four-story partial collapse of an Evanston, IL garage structure, and provided forensic and causation services for the partial collapse of an 1890's school building in Cincinnati, OH.
Construction root cause analysis from Bill and his team is just the beginning when it comes to SOCOTEC's Specialty Engineering Services. Available services include stress analysis, fracture mechanics, and engineering programs for a variety of industries such as infrastructure, transportation, energy, nuclear, government, industrial, maritime, and commercial. Every industry should have the safest experts on hand.
SOCOTEC's Many Areas of Service
Beyond structural and specialty engineering services like root cause analysis, SOCOTEC excels within the TIC (Testing, Inspection, Certification) industry in the construction and infrastructure sectors by coordinating teams to solve clients' most complex problems. SOCOTEC offers six Service Lines: Building Envelope, Energy & Sustainability, Code & Planning, Dispute Resolution, Project Advisory, and Specialty Engineering.
Specialty engineering support is just the tip of the iceberg for SCOOTEC's advisory capabilities. SOCOTEC offers services and support across many areas of expertise. Within the advisory and litigation support services division, SOCOTEC has more than 120 experts across 11 offices in the US. SOCOTEC is experienced in numerous dispute resolution forums, including United States Federal and State courts, Canadian courts, other various foreign courts, and arbitration forums such as the American Arbitration Association (AAA), International Chamber of Commerce (ICC), United Nations Commission on International Trade Law (UNCITRAL), and London Court of International Arbitration.