Building Emissions Reduction and Disclosure Ordinance (BERDO)
Wed 11/16/2022 - 17:59
Building Emissions Reduction and Disclosure Ordinance (BERDO)
Boston's Building Emissions Reduction and Disclosure Ordinance (BERDO) sets requirements for large buildings to reduce their energy use. The goal is to reduce emissions gradually to net zero by 2050. The ordinance amending the City of Boston code chapter VII sections 7-2.1 and 7-2.2 was filed in council on September 22, 2021 as a continuation of legislation originally passed in May 2013.
BERDO
*12/6/2022 Update on behalf of Boston Energy Reporting Services:
"Based on the timeline for submission and the current bandwidth of verifiers, we are allowing owners to request an extension for third-party verification. Owners must demonstrate that they have engaged a third-party verifier and that they are unable to complete the verification by the deadline.
An email or letter from the verifier must be shared with Environment Department staff and must detail the following: a) The property address, parcel ID and BERDO ID(s), b) confirmation that the verifier has agreed to verify the property(ies), c) date when verification is anticipated to be completed.

Owners will need to complete 

this form

 to request a further extension. Further guidance is outlined 

here in our How-To Report Guide

. Owners should still complete their required reporting to the fullest extent possible by December 15."
What buildings are covered?
Projects include any residential/nonresidential buildings, or parcel with multiple buildings, that sum to over 20,000 ft2 or have at least 15 units. Square footage is determined per the gross floor area listed in Assessing Department records.
What is reported?
The building owner(s), condominium association, or Board of Directors is responsible for reporting and overall compliance. The following items will need to be reported:
Property address

2021 energy utilities, fuel delivery bills, and meter information

Building area and number of units

Third-party data verification

Why SOCOTEC for BERDO

?
SOCOTEC employs Qualified Energy Professionals for Third-Party Verification with experience performing building energy verification outside the building owner or property management organization.
 We have experience:
Identifying your Parcel ID and BERDO ID

Creating Portfolio Manager account and adding property

Reporting data through Portfolio Manager

Linking Portfolio Manager to National Grid

Utilizing the BERDO reporting form
Energy data must be analyzed critically. SOCOTEC has experience:
Requesting electricity data from Eversource

Requesting natural gas data from National Grid

Requesting district steam data from Vicinity

Requesting water data from Boston Water and Sewer

Defining energy meters

Entering monthly data
The broad range of experience offered from SOCOTEC includes:
Understanding of peers in Class A office

market

Over 100 buildings tracked

annually

Several portfolios analyzed in

detail

Experience with office

towers

Offer measurement and Verification

services
Our consulting teams perform an analysis of BERDO data, provide an accurate understanding of building performance, and offer possible remediation methods. We prioritize Identified Opportunities and Measures, analyze the implementation costs, quantify energy efficiency savings, and investigate renewable energy generation.
Firm

Snapshot
SOCOTEC brings a set of skills to building envelope projects that is unmatched in the industry. Seeing the connection between energy and envelope ahead of many in the industry, our services have come to incorporate energy efficiency analyses, CFD modeling, code/construction advisory, forensic engineering, and fitness for service. In the US, SOCOTEC has >350 people throughout 21 offices.
SOCOTEC is highly qualified with experience from thousands of projects and a dedication to energy/carbon reduction. With a willingness to explore all manners of design strategies and technical measures to achieve meaningful carbon reductions, SOCOTEC has the ability to work efficiently as a team to meet a project's deadlines. Our energy efficiency, auditing/commissioning, and envelope consulting teams have been providing these services for over 25 years – not merely as general design practice, but as true specialists in these fields.
We have performed extensive audits, for all ASHRAE levels, for large office buildings, schools, hotels, residential towers, and governmental agencies. SOCOTEC's audit process is customer-focused and tailored to the specific needs of a facility. Following the tenets of ASHRAE guide 211, the audit team works through a preliminary energy analysis to identify all opportunities.
We work with the project team to come to consensus on an actionable implementation plan and assist with development of bid/acceptance criteria. As an audit progresses, we identify the costs that are not always apparent, including the cost of carbon, cost of disruption from equipment failure, and redundancy. Thus, we separate the essential from optional.
Finally, we review the associated risks inherent in the proposed measures in terms of Building Code, Local Laws, Indoor Environmental Quality, operational safety, equipment longevity and warranty issues from changes.
Energy and Carbon Assessments
SOCOTEC's energy and carbon assessments are informed by our comprehensive combination of expert services, including:
Energy modeling and analysis

Building envelope consulting

Commissioning and auditing
Thermal Analysis of Wall to Slab Connection and Subsequent Heat Transfer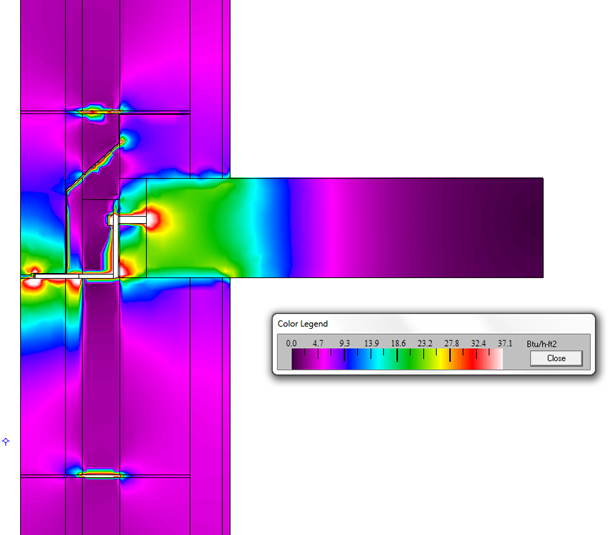 We have a broad view of current advances in energy efficiency and carbon, and as important, from experience, we know what actually work. Examples:
The first US Net Zero building - Joseph Lewis Center for Environmental Studies at Oberlin College, followed by a net-zero office for FBI, net-zero analyses for Walmart stores, and currently (in design) for Queens Botanical Garden Education Center

The first environmental residential towers – all residences at battery Park City, starting with Solaire

The first environmental US office high-rises – Four Times Square and One Bryant Park (the latter very high use intensity)

The largest US Passive House building – Cornell University dorm, and in design, the largest residential Passive House high-rise (Holmes, in NYC)

Very low carbon, all-electric buildings, in design – a data intensive 2 million SF headquarters and 561 Greenwich

Audits of portfolios of multiple buildings for clients in Office, Residential and Hospitality buildings of the largest developers and owners in nation

Our global work includes offices, hotels and residential towers in Great Britain, Germany, Italy, Canada, Mexico, China, Middle East, Turkey, Brazil, Japan and Korea. We worked on some of the largest developments, such as the Shanghai Tower, Seoul International Financial center, and also on smaller, yet important projects such as the Italcementi Headquarters in Bergamo and a Goldman Sachs office in London

Our work with real time and day ahead ISO

 

pricing data allows us to find opportunities of asset switching vis a vis carbon impacts
Thermal Comfort Analysis of a Double Paned Window vs a Triple Paned Window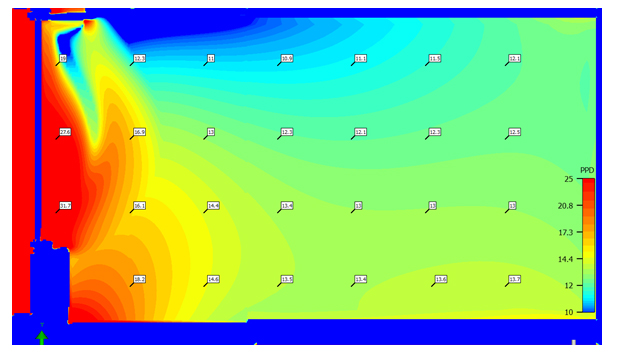 Advanced Knowledge of Design and Construction Techniques:
SOCOTEC has extensive experience with envelope replacements and retrofit, with special attention to envelope improvement and ensuring it does not affect the durability of the walls and roofs. We have been providing consulting on a range of envelope retrofit projects, that include office, hotel, residential, swimming pools, conference centers, museums, and others.
Here are a few examples:
Low-e film on the inboard

surface

Add-on interior insulating

window

Electrochromic

glazing

Replacement of glass

Breathable vapor barriers

High efficiency heat

pumps

Advanced Building Management

Systems
With lighting, we have worked with the designers to reduce the Lighting Power Density (LPD) while maintaining the light quality – and performed daylight/lighting modeling as necessary. For instance, for a 1 million square foot (SF) office retrofit in New Jersey, completed in 2018, we achieved 0.6 w/SF. Even lower densities are now possible.
With HVAC, we have analyzed many types of HVAC, and closely looked into improvements to all - from the typical floor-by-floor water-cooled DX to radiant floors (e.g., 561 Greenwich) chilled ceilings (e.g., 74 Trinity), modulating 100% DOAS, EC Motors on Fan Coils, and Digital VAV conversions, plus many more.
We are active in performing studies on saving energy in a COVID environment, regarding high filtration, UVGI, bi-polar ionization, hydrogen peroxide, and also less conventional approaches, such as means to reduce air communication between lobby and service areas to office spaces.
A Kit of Advanced Tools and Equipment:
We use a range of tools and procedures on and off the field. They range from:
Analysis of the energy bills using databases

Error analysis in the M&V projects

Effect of retrofits on envelope

Model lighting/daylighting

DOE 2.2 and

EnergyPlus energy analyses
Our General Approach is as Follows:
We examine the possibilities for carbon reduction globally – and in tandem with the other environmental goals (e.g., water, IAQ)

We examine interactions with the landlord in leased spaces, and assess the possibility of

cooperation.

Our in-house building envelope group and its substantial expertise in existing building

 

renovation can support the evaluation process with input on building envelope improvement opportunities at the same time while evaluating HVAC. In order to implement substantial energy efficiency improvements and carbon reductions, HVAC and building envelope solutions work together to generate enhanced benefits.

For Lighting, we look at opportunities now including addressable lighting, but be aware that LPD will continue to be reduced – which increases the importance of heating, and of part- load operation of HVAC systems.

For HVAC, we understand flexibility is important to change to all-electric in the intermediate terms when not possible now.